---
THE KELLY NEWS
Our Motto :
You Deserve the TRUTH
---
KELLY SUPPORTERS SHOCKED and SICKENED by SACRED SITE VANDALISM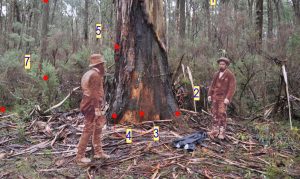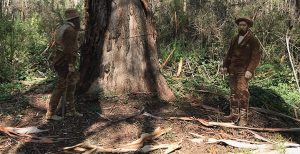 Side by side comparisons of before and after easily show the appalling destruction at the site
By our Special reporter:

NOTE: Nothing you are about to read is True (except the quotes, which are accurate and correctly attributed)
Award winning Actor and internationally recognised Kelly historian, Steve Jager announced this week on his Facebook page that an historic site at Stringybark Creek "has been desecrated and destroyed".
This site, according to famous Kelly historian Brad Webb was "one of Australia's most sacred sites", and is so important that to preserve it, it has been deliberately left off all tourist maps, all Heritage Victoria listings, all Google searches and every history book relating to the region.  In fact only a select handful of great Australians are even aware of its existence. Another Bushranger historian, Aidan Phelan said what happened there was 'like digging up a battlefield in Gallipoli or raiding a crypt'

These three world famous Kelly authorities, along with acclaimed Landscape Designer Jim Fogarty and their millions of distressed and horrified Facebook followers have called the 'perpetrator' a vandal and a criminal and have called for him to be imprisoned.
Facebook moderators removed a strongly worded opinion piece by Mr Phelan, labelling it hate speech, even after the brilliant Mr Phelan objected, saying "Unfortunately there is no avenue for a manual review by a human being", claiming that Facebook reviews are carried out by 'bots' and 'algorithms'. According to Phelan, who would be an expert in hate speech recognition, the thousands of moderators that Facebook employs would be incapable of recognising hate speech.
Hoping one day to produce his first movie, Phelan recently brilliantly showed how actual movie maker and Hollywood favourite Justin Kurzel got everything wrong in True Story of the Kelly Gang. However, he announced that he was not in the habit of singling out people for public criticism, but in naming this 'perpetrator', he identified the man who 'had the gall to go digging up a state forest for point scoring'. He also vehemently denied being a hypocrite.
At the site, it's easy to confirm the truth of the grim descriptions provided by Kennedy Tree defenders, of the ghastly destruction and wanton desecration in the midst of hundreds of acres of forest and many miles from human habitation: an area easily the size of an average bathroom floor, possibly even bigger had obviously been disturbed. As the astonished Mr Phelan has noted himself the entire area looked like "a suburban garden bed covered in mulch". Its believed that a specimen of Lepidosperma laterale was damaged in this frenzied attack and may not survive, meaning that the only places left on the entire planet where this precious rhizome still clings to life are all of the rest of that forest, the entire south-eastern seaboard of the Australian continent, New Caledonia and New Zealand! What a sad and  absolute tragedy and a shocking indictment. Looking at the tree and the area around it one can only marvel at the evil genius of a person who can wreak such havoc, vandalise the tree and its surrounds and yet leave almost no trace of this savagery.This Reporter couldn't help wondering, looking at all the rest of what appears to be pristine forest all round, if that too, despite appearances  has also been destroyed?
Speaking about the possibility that the vandal may have found something of significance, and cleverly refusing to venture into paranoid conspiracy theory, Phelan asked  "Who can truthfully say that he wouldn't be above concealing the fact and hiding the evidence by, say, pocketing the shot and digging up more ground than what is shown in the video he edited together to disguise where he found it?"
Phelan also asked "what was stopping him from working with the KTRG rather than against them?" One presumes he means 'apart from the KTRG rejecting the offers that were made and the outright refusal of the KTRG to work with him' So it's an entirely valid question that needs an answer.
Sadly, now that the site has been entirely destroyed, the Kennedy Tree Group are going to have to abandon any hope that it will be able to be added to the register of Australia's sacred sites because as Phelan wrote the area is now "too compromised to do further investigation"

(Visited 831 times)