Thomas Newman McIntyre :
A decent brave and honest man, disgracefully abused by the lies of  Kelly and his supporters past and present.
McIntyres third encounter with Kelly was two months after the meeting at Glenrowan, in the middle of winter, at Kellys Committal in Beechworth. To protect him from sympathiser attack, McIntyre was housed like a criminal in one of the freezing cells at Beechworth prison, his tormenter in another cell a few yards away. He developed pleurisy and spent more time in the local hospital, and emotionally he remained a broken man:
"I also had to stand my trial, the charge against me being a moral one, charged by some of my fellow citizens with want of courage"
Despite all this, he kept himself together sufficiently to resolutely testify against Kelly at Beechworth, and again in Melbourne three months later maintaining every time that Lonigan had been shot almost immediately after the Gang emerged from the undergrowth:
"I immediately put my arms out horizontally, I was unarmed – so as soon as I did so I saw the same man, the man on the right of the party  move the gun a little to his right and fire at Lonigan who had started to run……The effect of the shot on Lonigan was that he immediately fell – he ran only 4 or 5 yards before he fell, I heard him fall I did  not see him fall….From the time he was shot till he ceased to struggle about half a minute elapsed all he said was 'Oh Christ I am shot' a few minutes after that I saw that he was dead" (Beechworth August 1880)
"I was standing with my face to the fire and my back to the speargrass when sudenly a number of voices from the speargrass sang out "Bail up hold up your hands. Turning quickly around I saw four men each armed with a gun and pointing these weapons at Lonigan and me. The prisoner who was one of the men had the right-hand position and he had his gun pointed at my chest. I being unarmed at once threw my arms out horizontally. Lonigan was in my rear and to my left. Saw the prisoner move his rifle bringing it in line with Lonigan and fire. By glancing around I saw that the shot had taken its effect on Lonigan for he fell. A few seconds later afterwards he exclaimed Oh Christ I am shot" (Melbourne October 1880)
In Melbourne, as we have seen, Kellys defence lawyer mocked him saying if he and Lonigan had been men of real courage they "might have made a good fight. But he ran away and so his account should not be taken as trustworthy". Wisely, the Jury ignored Bindons' taunts and believed McIntyre's account, finding Kelly guilty of Lonigan's murder, and a couple of weeks later Kelly was dead.
McIntyre retired from the police service the following year, on the grounds of 'bodily infirmity'. His share of the Reward monies was added to his police pension.
"I returned to the ranges where the pure mountain air and change of employment re-established my health"
In fact, he went to live at Alexandra, and much later moved to Ballarat, and though dogged by mental health issues constantly he managed to raise his family, write poetry, dabble in journalism and write an account of the Outbreak "A True Narrative of the Kelly Gang".(read it HERE).  Once again, he recounted what happened when he and Lonigan were confronted by the Kelly Gang at SBC:
"I was standing with my face to the fire and my back to the rushes looking down the creek for the men whose approach I expected. Lonigan was standing on the opposite side of the fire into which he was gazing intently, he had been strangely silent all day, if he lifted his head he must have seen four men who were approaching us from behind the rushes before they challenged us, but he did not do so.
 Suddenly and without warning I heard some voices crying out "Bail up, hold up your hands". My first impression was that it was Kennedy and Scanlon who, coming from an unexpected quarter, were jesting; on turning quickly round I saw four men standing in the rushes, each of them armed with a gun which they held at their shoulders presented in our direction. I noticed particularly the man upon the right of the attacking party and I knew it was Ned Kelly as soon as I looked at him.
 Seeing that he had me fairly and deadly covered, without the slightest tremor in the rifle, I wanted that rifle lowered before I attempted to get my firearms and accordingly threw out my arms horizontally. Immediately I did so Ned Kelly shifted the muzzle of his gun to the right and without taking it from his shoulder shot at Lonigan who had started to run partly towards and partly down the creek putting his hand down as if to get his revolver, he had no time to open the case and must have been looking over his right shoulder when he was shot in the right eye by Ned Kelly. I took a hasty glance around when Kelly fired and saw Lonigan fall heavily he said "Oh! Christ I am shot", made several plunges, breathing stentorously, after which he remained quiet. The whole affair occurred so quickly that Lonigan did not run more than four or five paces before he was shot; had he stooped down he would have been under cover of the logs when no doubt I would have been shot as a preliminary to their shooting him."
This is the fifth recorded account McIntyre gave of Lonigans death – his original report, his testimony at two Courts, his brief discussion with Kelly at Glenrowan and now this one. Every time he told the same thing: Lonigan was killed while out in the open, he didn't get behind a battery of logs, and he didn't even get his gun out of its holster, let alone fire it. Later, he produced a couple of diagram to illustrate what happened, and in both he showed that Lonigan fell only a few feet away from where he had been standing when the Gang confronted them. Heres the relevant part of the later one: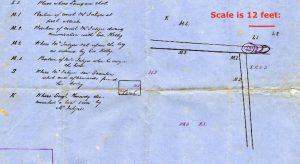 L1 is where Lonigan stood when the gang approached,
L2 is where his body lay, less than 12feet away not 18 to 20 as Kelly claimed
Kellys version of what happened, presented in the Jerilderie letter was very different:  according to Kelly, Lonigan ran six or seven yards and then DID get behind a battery of logs, he DID get his gun out and he DID aim it at Kelly. McIntyre and Kellys accounts are too different for them both to be true – one of them had to be lying but who? –  the 'zealous conscientious policeman' or the known liar?
According to Jones and Crichton et al. its McIntyre who is lying: "Kelly told the truth, and McIntyre told a big porky."(Crichton on Facebook a week or two ago).  
In a comment dripping with sarcasm and mockery, this is how Jones put it in 2014:
"A Chief Justice of Victoria and formerly an expert defence barrister the late John Phillips considered that the doctors evidence bore out Neds version of the killing of Lonigan, rather than McIntyre's. Intriguingly, some self-styled forensic and legal experts clinging to McIntyre's claim that Lonigan was shot before he could draw his revolver, have discounted Phillips views. They are so desperate to avoid the fact that McIntyre made a statement to Supt Sadleir only three days after the gunfight that Lonigan dived behind a log and was coming up to fire at Ned when he was shot – conforming Neds version.
McIntyre, in his most extraordinary piece of evidence at the Beechworth trial quoted a conversation with Ned shortly after his capture:
I said when I help up my hands you shot Lonigan. He said No, Lonigan got behind some logs and pointed his revolver at me, did you not see that? I said No that is only nonsense"
Sadleir, who had transcribed McIntyre's statement was in the court.  Presumably the need to convict Ned Kelly outweighed everything else, even to the extent of condoning perjury"
The reality is this: in saying Sadleir 'had transcribed McIntyres statement' Jones is plain wrong, utterly and completely and demonstrably wrong, no question about it! We have copies of every statement McIntyre DID make, and NONE of them said what Sadleir thought he remembered. McIntyre did NOT make a separate statement to Sadleir three days after the 'gunfight' (sic), so there never was some other unseen statement that Sadleir transcribed. All that happened was that Sadleir met and spoke to McIntyre several days after the murders, long after McINtyre had already submitted his statement, and then thirty-five years later Sadleir wrote down what he thought he could remember of what McIntyre told him – and got much of it wrong. He also reported that it was Dan Kelly who executed Kennedy and that "Ned Kelly insisted on each of his companions discharging their weapons into the dead bodies of the three police, thus fully implicating, as he thought, each and all in the crime that had been committed' In relation to Lonigan, this claim was disproved by the autopsy findings which showed that every wound was inflicted on him while alive.
Jones seized on Sadleirs misremembering, and to suit his own purposes Jones misrepresented Sadleirs recollection as being a transcribed 'statement' made three days after the murders and promoted it as evidence of a cover up. According to Jones, McIntyre committed perjury because in Court he stuck to the account contained in every actual statement he ever made but not to the content of the non-existent 'statement' that Jones invented. This is complete and utter nonsense.
The idea that anyone would seriously believe it made sense to overturn McIntyres written accounts of what happened, repeated five times within a couple of years, and all saying the same thing, and even illustrated with a couple of diagrams, on the basis of a recollection put to paper thirty five years later by someone else is so absurd its laughable.
Except that it's not really funny – it's actually appalling for someone purporting to be writing history to get the facts so wrong and to paint McIntyre as a liar and guilty of perjury , its a malicious and baseless vilification of a decent  brave and honest policeman, a misrepresentation aimed at discrediting McIntyre in order to maintain Jones fiction about Ned Kelly, that he was a victim. Either that, or it's an innocent mistake made by deeply ignorant people who have no idea about what constitutes a balanced and rational evidence-based argument.
Unhappily, for anyone who still refuses to accept that Jones got it wrong, there is independent evidence that conclusively proves that the liar was Kelly and that McIntytre told the truth. Its in the form of the irrefutable forensic evidence derived from Dr Samuel Reynolds post mortem examination of poor Lonigans corpse. His findings can only be explained in one way : Lonigan was out in the open when shot. Its literally impossible to recreate a scenario that matches what Kelly claimed, and in which the laws of physics are not violated where someone hiding behind a battery of logs with just his head emerging from above them, could end up with the pattern of wounds Lonigan sustained. The liar was Kelly and the motivation is obvious. End of story. You can read all about that HERE, where the puzzle of Lonigan's multiple wounds, and the forensic reports are fitted together in the only possible way. Its illustrated with a simple drawing that makes it obvious – this drawing :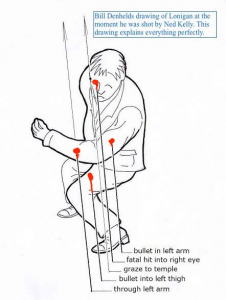 As for Crichton's ridiculous attempt to explain how Lonigans injuries were received I won't post a link to it but it can be found in his Letter to Thomas on the Iron Outlaw site. Read it if you can be bothered and if you're not overwhelmed by nausea, have a laugh.
(Thanks to Johhny Reardon for the colourised image at top of page)
(Visited 504 times)