The latest in the endless stream of books about the Kelly story has just come to my attention. It's a photographic travel guide, only the third that I have seen, the other two being the elegant "Photographic Journey" by Brendan Kelson and John McQuilton, and the hopeless and forgettable "Introduction to Ned Kelly" by Jack Peterson. This new book refers a number of times to a fourth travelogue, one I hadn't heard of before called "In search of Ned" by Kevin Passey, from 1988. Its photos are all in black and white; AbeBooks lists a copy available for $150! so I might give that one a miss.
'A Journey Through Kelly Country' describes itself is "an essential travel guide that will lead you on an amazing journey of discovery through Kelly Country. The guide is full of maps and step-by-step directions on how to locate these historic sites. Photographs show you their past and present condition. You will be lead to historic sites that, although not so well known, are still important to the Ned Kelly story." It is available as an e-book for $19.95 or as a paperback for $39.95 (HERE) I would like to have known the dimensions of the paperback edition – if it was big enough it could be quite a lovely book to look at, because as I quickly discovered on the e-book that I purchased it contains some really lovely photographs of Kelly country.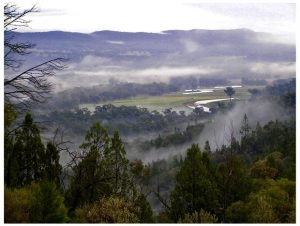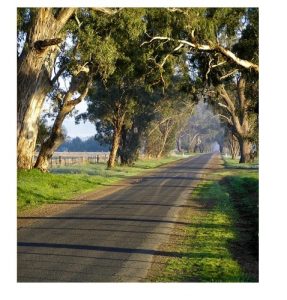 I've not been able to test on the ground how well this new book works as an actual travel guide, but reading the book, and the instructions and maps that are provided to show you how to find just about any Kelly related historical site in the Kelly Country, I get the impression that this surprisingly comprehensive Guide is brilliant. There are around sixty different sites described and photographed, each with detailed instructions on how to find them. The directions and the maps seem clear, and there is also advice about public accessibility in relation to each site, clearly indicating which places can be approached and which ones can't because they are on private land. There are even GPS co-ordinates for a cave site up in the hills of the Woolshed Valley, for enthusiasts willing to do a bit of hiking.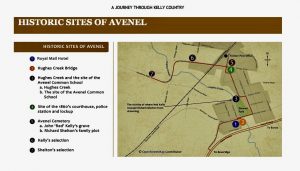 The photos in this book are high quality and many are quite artistic and beautifully taken. There are also historical photos of places that have since disappeared, a few old maps and photos of some original Kelly documents making the book suitable for the armchair traveller as well as the actual traveller.
There is however a serious downside to this book in the skeletal Kelly narrative that it supplies to accompany the photos. Given that the Kelly story by every reckoning is at least controversial, and the 'hero-or-villain-you-decide' mantra is still a popular refrain in the Kelly world, I would have thought the author, Anthony Dodd should have made the effort to be neutral, to resist the urge to advocate for one side and just stick to the undisputed evidence, but regretfully he hasn't done so. Instead the travelogue seems to be a vehicle to subtly promote his obvious pro-Kelly position, and sanitise the nasty realities of the Kelly outbreak. For example, he recounts a very skewed and kelly-favourable version of the 'Ah Fook' incident, and writes that before visiting the Kelly house, Constable Fitzpatrick had "a few drinks". This description is not only false but plays to the Kelly myth that Constable Fitzpatrick was a drunk. There is ZERO evidence of this. In fact all that is known about drinks are the word of Fitzpatrick himself who said he had not 'a few' but a single drink of brandy and lemonade. Another example of pro-kelly bias is the statement in relation to Stringybark Creek that "the first exchange of gunfire led to the death of Constable Thomas Lonigan" which plays to the Kelly myth that the policemen were killed in some sort of fair fight between police and gang members. In fact even Ned Kelly said that Lonigan didnt actually fire his weapon, so to say there was an exchange of gunfire is simply incorrect. To then say that "the second exchange of gunfire led to the deaths of (Scanlon and Kennedy)" again plays to the Kelly myth about what happened and also creates a completely false picture of the reality of how these two policemen were brutally killed. In a similar fashion, he ignores the negative detail of Jim Kellys arrest in NSW for horse stealing, his adoption of a false name and the violent way in which he resisted arrest, he ignores the horrors the gang had planned for Glenrowan and mentions only that there was a plan to derail the Special Police train, he provides an unnecessary partisan but very shallow view of Irish history and of the relationships between squatters and selectors in Australia, and generally has presented a sanitised and sympathetic view of Ned Kelly and the outbreak. The bibliography lists all the usual pro-kelly authors from Jones to McMenomy, Corfield and Kenneally, but not one from the new wave of Kelly scholars like MacFarlane, Morrissey, Kieza or Dawson whose insights into the outbreak should now be starting to appear as sources in new Kelly books. I can't believe that Dodd wasn't aware of these authors, as he claims to have had an interest in the Kelly story for many years, so I am disappointed to conclude he must have done what Peter Fitzsimons did when he wrote his Kelly book five years ago, bury his head in the sand and deliberately ignore the new works.
The narrative therefore badly lets the rest of the book down, because like it or not the old Kelly myths are being put to bed, and I think Anthony Dodd should have pared the 'narrative' back to the barest facts and made the book a pure travelogue, a book about the Kelly places rather than the Kelly story. I think he should have left readers to make up their own minds about the true story rather than try to influence them with his personal bias and the inevitable errors that he has included.
Having said all that, it's clear this book will be an excellent travel guide to Kelly Country, and the excellent photos might just persuade everyone who thinks they can't get there to see these sites for themselves to make the effort. For $20 as a download onto your i-pad it's well worth it.
(Visited 585 times)