This week I'm going to start an examination of Professor John McQuilton's contribution to the Kelly story. McQuilton is best known for "The Kelly Outbreak" a 1979 publication based  on his 1977 PhD thesis, subtitled 'The Geographical Dimension of Social Banditry'. Following its publication well before Molony and Ian Jones were in print, McQuilton became one of the foremost authorities on the Kelly story.
Ive already reviewed his book (HERE) and wont be focussing on the book but on his other contributions, this week beginning with his central role in the ABC Documentary "Outlawed: The Real Ned Kelly". This near hour long 2003 documentary features a number of well-known Australians and Kelly people both in its production and on screen. Noeleen Lloyd has a speaking part at the beginning and at the end, a Griffith family member and a Kennedy family descendant (not Leo this time) make a few comments, Matt Shore of the Beechworth Ned Kelly Vault is mentioned in the credits, and the whole thing is beautifully narrated by the wonderful Jack Thompson.( which ironically was also the fake name used by Ned Kelly when he was operating his stock thieving syndicate!) But the central authority onscreen is John McQuilton, duly identified as Professor and Kelly Historian from Wollongong University, and he appears at intervals throughout. Its quite a slick and very convincing production with suitable background music that's jaunty Irish one minute and brooding the next, and its been viewed more than 80,000 times since 2014, so no doubt can be regarded as a significant influence on public understanding of the Kelly story.  I wrote a review of it in late 2015 (HERE)  
Unfortunately, the sad truth about this documentary is that it seriously misinforms its viewers, it supports and promotes lies and distortion over historical truth, and much of that misinformation comes from the mouth of Professor McQuilton, a man who should have known better.  How can ordinary readers be expected to have an accurate grasp of Kelly history when the supposed professional Kelly Historians are leading them astray?
Many of the distortions and misrepresentations are subtle, but here I will mention a couple of examples that are not at all subtle – they're egregious misrepresentations of a kind that might be expected from an ignorant Kelly fanatic, but from a professional trained academic they're outrageous. Heres an  example of McQuilton seriously misrepresenting Police policy  : at about the 9.30s mark in the documentary, McQuilton advances a claim that Standish, the police commissioner in 1877, had a plan designed to force the Kellys out of Victoria into NSW.  He then says
"Its phrased very curiously: it says without worrying or oppressing the people in any way, bust them on any charge you can".
In fact he has not quoted the statement accurately and he has left out the part of it that completely undermines his claim. The actual words recorded from the time, an instruction given by Nicolson to Brooke-smith are "That without oppressing the people or worrying them in any way, he should endeavour, WHENEVER THEY COMMIT ANY PALTRY CRIME, to bring them to justice" (my caps)
McQuiltons deliberate misquote lends support to the idea that the innocent Kellys were being harassed by the Police, that the Police were instructed to 'bust them on any charge you can' but that is NOT what they were instructed to do. McQuilton ignores the fact that the police were quite specifically told NOT to harass the Kellys, to leave them alone and stay out of their way, UNLESS they committed a crime. The instruction was that if the Kellys DID happen to commit a crime, even a paltry crime, they were to be strictly dealt with according to the law. By 1877 when this instruction was issued the Kelly clan had racked up a long list of all manner of serious crimes that included theft, arson, domestic violence, drunkenness, and even animal cruelty. The police were no doubt fed up with them all, and the instruction was an entirely appropriate response to a situation of increasing lawlessness in the north east. But its very clear : any interaction between the Kellys and the police was entirely dependant on how the Kellys behaved : if they  didnt break the law they were NOT to be oppressed or worried "in any way", but if they did, then they were not to be dealt with leniently. Theres is simply no way that this can be called harassment or persecution – which is what the Royal Commission found – and yet here the revered Kelly Historian is supporting fake history! 
The narrator then says, following on from McQuiltons misdirection about harassment:
"This police harassment would ultimately force Ned down a road that would leave men dead and the country in turmoil, for into the fray stumbled the disreputable Constable from Greta, Constable Alexander Fitzpatrick."
As readers of this Blog will know, the facts are that in 1878 Constable Fitzpatrick had an entirely unblemished record as a policeman and there is therefore no historical basis to describe him as a 'disreputable constable'. Never-the-less at 9.59s McQuilton continues this baseless character assassination with further claims which are again, unsupported by any evidence from the time, saying:
 "He's known for his penchant for drinking with the wrong sort of people in the district , not seen as particularly trustworthy by his immediate superiors, but Fitzpatrick gets it into his head that if he goes to the Kelly house and arrests Ned and his brother Dan, all his problems will be over".
The facts are these : in 1878 Fitzpatrick was NOT known as a drinker or someone who associated with the wrong sort of person, he was NOT regarded as untrustworthy by his superiors and he went to the Kelly house to arrest Dan, not Ned and Dan.  McQuilton's claim about what had got 'into his head' is pure speculation,  an invention to fit his made up  baseless narrative. Again, I ask, how can ordinary readers be expected to have an accurate grasp of Kelly history when the Kelly Historians are  getting it so wrong and deliberately leading them astray? This is really appalling stuff from a professor of history!
Now see what McQuilton does and says at the 20.15s mark. The police murders at Stringybark Creek are being discussed and the narrator says:
"For those who want Ned Kelly to go down in the history books as a hero, there has to be some evidence for his conviction that he only killed in self defence"
McQuilton moves into view and approaches a pack horse with a blanket covering its load, saying:
"According to Ned Kelly the police party at Stringybark Creek had but one purpose in mind"
McQuilton then dramatically pulls back the blanket to reveal the horses payload of rifles and says, pointing at them:
"They came heavily armed with Martini-Henry rifles – these are state of the art in modern weaponry. This is a clear indication that the police meant business"
Its a dramatic moment, but he continues, saying:
"But if that was not enough, far more insidiously were these innocent looking straps, what were called 'undertakers'. The straps were made so they could pack a body across the length of a horse and bring it out of the bush after a man had  been killed, and were frequently used for  mining accidents and the like. But when a police party went into the bush carrying these straps, Kelly believed he would be brought in dead rather than alive"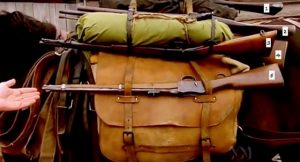 This dramatic sequence and McQuiltons delivery create a very powerful sense that the police squad was a kind of hit squad, heavily armed and expecting to bring back bodies, but once again McQuilton has got his facts all wrong, completely wrong, and in ways that are hard to fathom. As you can see in the screenshot, there were at least five rifles on that packhorse, and yet the documentation from the time is very clear, unequivocal  and something McQuilton ought to have been very familiar with – in addition to thier standard issue revolvers the extra weapons the Police took with them were one shotgun – a 'fowling piece' loaned by the Mansfield vicar, and one rifle, not five, and the rifle was a Spencer Carbine, not a state of the art Martini-Henry as McQuilton claims. And the body straps? They are a twentieth century embellishment added by Ian Jones with not one single piece of evidence from that time or for at least 50 years afterwards that such things were ever part of the police kit. In fact, its well known that the police took handcuffs, which suggest they were hoping to be bringing back live fugitives for trial.
Later in the documentary McQuilton expresses his opinion on why the suits of armour offered no leg protection. He says the armour consisted of three pieces – the helmet, the breast plate and the apron, protecting the thighs. Looking up from the foot of the embankment down which the train was supposed to have plunged, he says the legs of gang members standing at the top wouldn't need protection because from down there they cant be seen. In fact the armour had FOUR main pieces – McQuilton forgot the back plate, which if his theory made sense wouldn't be needed as the Gang members backs also cannot be seen from the bottom of the embankment. But this error is the least of the many that McQuilton makes in this misleading documentary, most of which I think betray an approach to history that one would not expect from a professor of history. What one would expect from a history professor at the very least is accuracy when it came to verifiable facts, accuracy when it came to quoting the records of history, and objectivity when it came to offering an opinion about what it all means. In this documentary you see vey little of that when it comes to McQuiltons  contribution and I think it ought to seriously damage his reputation as an authority on the Kelly  story. I'll have more to say on that topic next week.
(Visited 935 times)