Make no mistake: the MOST important finding made by the 1881 Royal Commission into the Kelly Outbreak, was that it did NOT result from police harassment and persecution of the Kelly clan. This finding is the opposite of what Ned Kelly and his supporters have always claimed, it exposes Ned Kelly as a liar and identifies him as just another criminal, who like criminals have always done, tried to blame the police and the authorities for the mess he made of his life. Never-the-less, despite that finding, in the minds of a small number of people Ned Kelly remains a hero, and the obvious question is 'How come?'
One reason is that for obvious reasons readers simply haven't been told of this finding : they've been kept in the dark by Kelly writers pretending it was never made. They've been told of other findings made by the Royal Commission, findings that fit with the Kelly supporters preferred story, but with one exception they've kept very quiet about the biggest one of them all, the finding that exposed Ned Kelly as a liar and just another criminal.   The exception was Professor John McQuilton – he attempted to make a case in support of Ned Kellys claim – that he was a police made criminal – in Chapter Four of his landmark 1979 book The Kelly Outbreak. 
Last week I pointed out that McQuilton based his argument on what happened the very first time a Kelly clan member was arrested and charged with stock theft. The only thing we actually know about this case is that in 1856, sixteen-year-old Jimmy Quinn was arrested and charged with stock theft, and subsequently acquitted. McQuilton claimed this case showed how encouragement from Squatter rewards resulted in Police picking on the clan, and the acquittal proved police didn't have a case. But actually, when you think about it, if police were motivated by Squatter rewards and were corrupt, wouldn't you expect them to have engineered a conviction rather than discharge, so they could collect the reward on offer?  Acquittal actually undermines McQuiltons argument, but he wrote that it was 'difficult to over-estimate the importance of this arrest'.
In any event,  given we know nothing at all of the detail of  this case, McQuiltons claims are pure speculation – it would be equally as valid to claim this case showed that the Police were compassionate in their dealing with the young thief, that this wasn't persecution but the actions of a Court system that was trying to avoid sending such young men to prison in the hope leniency would encourage respect for the law, and a life of crime avoided. But in fact, none of us has any idea of what happened or why, and speculation in any direction is pointless. McQuiltons first point is void.
I also showed last week that McQuilton attempted to bolster his interpretation with a completely misleading reference to the Royal Commission. The evidence he used came from 1868, long after the Outbreak of criminality in the north-east had become firmly established. His second point is therefore also void.
McQuilton next writes: "The next arrest of a clan member did not come until 1860 and attention shifted to the eldest son John(Jack) Quinn. Again, the charge was stock theft and it failed in court. The police stepped up their campaign, making nineteen arrests between 1860 and 1865. Twelve of the charges were dismissed by local benches. The repeated failure to obtain a conviction indicated either an incredible incompetence on the part of the police or, as oral tradition held, an overzealous attention paid to the wrong suspects."
This really is a remarkable statement, because firstly, on the basis of a case about which we know nothing McQuilton claims to have identified a police 'campaign', and that it was 'stepped up'! Why does the bare fact of making nineteen arrests in five years imply a 'campaign' by the Police? Couldn't nineteen arrests in five years also just as plausibly mean that the police were responding to a campaign of increased criminality by law breakers in the north-east?
The huge problem with McQuiltons argument is that once again its not based on an analysis of the actual case, of details regarding the reasons Jack was arrested or why he was discharged. Instead, he performs a kind of crude statistical analysis on the list of charges and conviction supplied in Appendix 10 of the Report of the Royal Commission, adds up the columns and declares the only possible explanation for a conviction rate of 37% (7 of 19 charges) is either "incredible incompetence" or "attention paid to the wrong suspects" – in other words police persecution and harassment of the Kelly clan.
I hate to be the person to point this out to everyone but as an academic argument that is worse than dreadful, and its lazy. The idea that a particular conviction rate by itself, with no other data, can usefully inform a debate about Police competence and culture is unsustainable. A simple example that illustrates this obvious fact is the very low conviction rate for sex crimes in modern jurisdictions. According to one study of the US, Australia, Canada, England, Wales and Scotland, for example, only 7% of cases resulted in a conviction for the original offence charged, and only 13% led to a conviction of any sexual offence.
( https://theconversation.com/victims-are-more-willing-to-report-rape-so-why-are-conviction-rates-still-woeful-92968) 
What would McQuilton say 13% conviction rates suggest?  Stupendous police incompetence or huge numbers of innocent people being falsely accused in a campaign of police harassment? Or perhaps he might concede that the statistic reflects how difficult it can sometimes be to legally convict, and is an indicator of scrupulous adherence to the principle of innocence until proven guilty beyond a reasonable doubt? The point is that by itself, a conviction rate tells us very little – the Royal Commissions table reveals nothing about the underlying processes and provides no support for McQuilton's claim that it indicates police incompetence or the harassment of innocent victims. The same statistic could be used to support a view that the courts were being lenient on criminals, or that intimidation of witnesses, and perjury were successfully enabling criminals to avoid convictions, but without detail, who would know? McQuiltons argument again fails spectacularly.
What's needed, if we're really interested in finding out the truth are facts about the individual cases so a proper analysis can be done, and while much evidence is lost, there is still a great deal which when looked at closely, shines a very different light on those statistics.
So let's now look at the second charge mentioned by McQuilton, the 1860 charge of stock theft by Jack Quinn : 'Again, the charge was stock theft and it failed in court'writes McQuilton. John, aka 'Jack' Quinn was twice charged with stock theft in 1860, in the following year he was charged with robbery under arms, and in 1879 he also was charged with being a Kelly sympathiser.(RC Appendix 10) He was discharged without conviction every time, which in the eyes of some might indicate police harassment – charges laid without enough evidence to make them stick.
However, the story of Jacks first acquittal is a revealing one. What's different about this case, compared to the 1956 acquittal of Jimmy Quinn is that the record hasn't disappeared, and reviewing the detail of this case provides compelling evidence that McQuiltons statistically based explanation for acquittals being due to either police incompetence or harassment is completely wrong. In his defence perhaps I should concede that he may not have had the access that we are so lucky to have today, to all the old reports. Maybe if he did have the same access, his conclusions would have been different.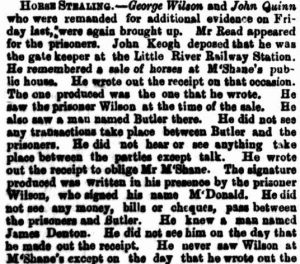 What happened was this: a neighbour of the Quinn's, James Cameron reported two mares, two foals and a horse were missing. Jack Quinn and a man named Wilson were charged with selling them to a man named Butler, a man with a previous conviction for horse stealing. The transaction took place at a pub, the Little River Hotel, on the other side of Melbourne near Geelong. (Age 1-5-60 p6)
In Court one of the witnesses, John Keogh, the 'gatekeeper at the Little River Railway Station' told how he wrote out a receipt for the sale of horses from a Mr McDonald to Mr Butler 'to oblige Mr McShane' the publican in whose premises the deal was made. The receipt was exhibited in Court and Keogh said that Wilson 'signed his name McDonald'.
However, the two witnesses could not swear in Court that the 'prisoners', Wilson and Quinn, were definitely the two men they had seen a couple of months before. They didn't know them and only saw them on that day at the Little River Hotel. Quinn's defence then produced a string of witnesses to say that Quinn couldn't possibly have been in the pub at Little River that day because he was working with them on a farm, eighty or so miles away at Wallan, reaping and carting oats. All of the witnesses, as well as the supposed buyer Butler, were employees of Jacks father, James Quinn Snr, and it was on his farm they all claimed to have been working the day of the sale at the Little River Hotel. One of the witnesses was a brother-in-law, Robert Miller and another of them was George Porter, the same man who was later involved in a brutal attack with Jacks brother Jimmy on William Skelton, an attack that left Skelton permanently disabled. None of these people could be said to be unbiased or independent – indeed, given that their livelihood depended on wages paid to them by Jacks father, a serious conflict of interest is glaringly obvious. I wonder if these days such conflicted witnesses would have any credibility in a court?
In the end, as 'the bench did not consider there was sufficient evidence against them' they were all discharged.  (Age15-5-60)
This case is instructive because it depicts the very opposite of what would be expected if the McQuilton and Kelly narrative of police corruption and persecution were true. There was certainly an actual crime committed, but it had nothing to do with police – it was a dispute between one neighbour and another. And somehow the horses ended up being sold on the other side of Melbourne. Jack Quinn was acquitted on the evidence of family members and employees of his father, one of whom (Butler) was already a convicted horse thief and another (Porter) apparently, a violent thug. These unsavoury men were friends and associates of Jack Quinn. All the police needed to do to get a conviction, if that was what they had been corruptly intent on doing, would have been to 'encourage' their witness to swear for certain that Jack was definitely the man in the Pub. Instead, the court accepted the testimony of highly suspect defence witnesses, and the inability of prosecution witnesses to be absolutely certain about the identity of the two suspects. The charges were dismissed, not because there was no evidence but because there was 'insufficient evidence' against the two accused. The record documents scrupulous adherence to principles of justice and the rule of law. For Jack Quinn it was a close-run thing. This case, after close examination doesn't just provides zero support for McQuiltons and Kellys assertion of police persecution, its actually powerful testimony to the exact opposite.
This example is also remarkable for another reason : it reveals that one of the methods used by Ned Kelly to dispose of stolen horses when he was a 'retail and wholesale' stock thief many years later , was in use in 1860, and quite probably by Ned Kellys uncle Jack. The method involved creating an impression in a stranger that a legitimate transaction was being conducted between a seller and a buyer and that a signature was needed from an independent witness.  The stranger, in this case Keogh, whom they met that day in the Little River Hotel, some eighty miles from Wallan where the suspects lived, wouldn't have known that the 'seller' and the 'buyer' were partners in crime and the transaction was fake, but the documentation signed by the witness would then enable the stock to be disposed of in a legitimate sale elsewhere, and converted into cash for the thieves. The giveaway in this case was that no money was exchanged. Keogh reported that the two criminals engaged in what must have been a mock argument about when and how the payment was to be made, to allay any suspicions that might be aroused.
So what is happening to McQuiltons case for police harassment and Kelly persecution? What is happening is the same thing that happened when the Commissioners went looking for it in 1881 :  when you look closely at the actual evidence, at the facts and the historical record, the evidence thats supposed to support the claim that the Outbreak was caused by police harassment and persecution turns out not to support it at all and the myth evaporates into thin air. But its just not another Kelly Myth that's disappeared – its the most important one of them all, and once that ones gone the whole myth collapses. 

(Visited 662 times)