As is often the case on this  Blog, the Discussions are where the interesting stuff happens, but this discussion is worth a Post of its own, because, for one thing we are hoping someone out there might have the answer to the question asked – how do we know that the green sash taken from Kelly when he was captured is the same one he was supposed to have been given by the Sheltons at Avenel in 1865?
The thread is reproduced below and began with this :
While we're on the topic of myth making, isn't it interesting that Kelly wore a red sash at Stringybark Creek – see the screenshot from the Australiasian Sketcher 23 November 1878, page 134.
The Benalla sash that was taken off Kelly at Glenrowan, the padding under his armour, is a cummerbund that measures 7'3" (2.2 metres) x 5.5" (14 cm) with a 2.5" fringe of gold bullion thread.
The Kelly legend claims it was a sash awarded to Kelly as an 11 year old boy when he rescued 7 year old Richard Shelton from a waterhole he had fallen into while playing in the creek, a thank-you from Richard's parents, and which as we know from McMenomy came from the Shelton family's drapery business.
But was it? What evidence is there that the sash presented to 11 year of Kelly was the same green sash he was wearing at Glenrowan? References someone?
Why would the grateful parents give an 11 year old boy a sash over 7 feet long as a reward? Wouldn't they have given him a three or four foot long sash from the family drapery business?
What evidence is there that the sash young Ned back then was given in gratitude was green? References please someone?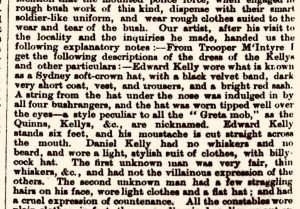 Hi Thomas, I think where Kenneally 1929 refers to "the 'green silk sash', with a heavy bullion fringe", he is just slightly rephrasing from Joseph Ryan whom he discusses in the next paragraph.

Iit sounds from reading futher on in Kenneally's 1945 and later editions that possibly Jim Kelly wrote to Pole to ask for the sash to be returned to him, or more likely from the wording, that someone wrote on his behalf, probably Kenneally.

It doesn't sound like the sash had become a thing before Kenneally 1929, and he didn't link it to Ned rescuing a boy from the creek until some later edition. That's why it would be nice to check the 1934 third edition for the link; otherwise it's 1945 onwards..
(Visited 1,583 times)