I started reading my Kindle copy of this book at 0530 today. A full review of this just-released work about the Outbreak is in preparation, but in the meantime, here's something from the book to start the discussion off.
Last week, well before publication date, an article in the Age newspaper about the book was headlined "No hero: New Ned Kelly book wins praise from police chief". In my opinion that wasn't a very helpful headline – it was designed to get a rise out of Kelly admirers by mentioning the police chief – and they didn't disappoint. All the usual Kelly Facebook pages immediately exploded with angry denunciations of the book and its author, even though not one of them had yet had a chance to read it. They were just continuing the tradition made popular in Kelly circles by Mick Fitzsimons, of rubbishing books they've never read; knowing nothing about something hasn't ever stopped Kelly fanatics so I shouldn't have been surprised:
"Ned Kelly is the most iconic hero ever googled, Just ask Google nobody is gonna buy this book it's a piece of trash"

How about this :
"Junk like this will be in the $1 bin before you know it….where it belongs!"

Many other comments are unprintable.
In a list of many interesting claims about the Outbreak said to be discussed in the book, the article said this:

"It (the book) argues that James Wallace, a King Valley school teacher, post master and friend of Kelly Gang member Joe Byrne, probably wrote the famous Jerilderie Letter in which Kelly airs his grievances."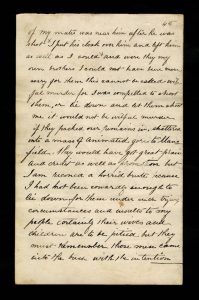 On the FB page devoted to Joe Byrne, this then appeared:
"Just a little FYI to the author of this book and those who may decide to read it, James Wallace did not pen the Jerilderie letter. This is a claim that has never been put forward until now and is quite laughable. (Although in truth it just pisses me off.) The letter is clearly in Joe's hand, as referenced by other material Joe wrote, including a ballad penned by Joe about the gang. (Which the author hasn't seen.) There are also parts of his style and voice within the letter, and this too is referenced by other material. Even Superintendent Hare noted Joe's cleverness with a pen and his ability to shape words, which given his education was a testament to his intellect. Not to mention, also, that Ned and Joe were seen writing the letter by Mrs Devine…
Honestly, why the extremes? It is not smart or groundbreaking to rewrite history. (On either side.) And if you're going to deny Joe the hours he spent writing and polishing Ned's words, because you either believe he wasn't clever enough, or because he was so addled with drink and opium, we have an even bigger problem."
Stones, like the people quoted above is 'pissed off' that someone might have a different opinion from hers, and calls it 'laughable' though like the people quoted above at that time she had no idea what the case might be for the alternative author. Her own case, expressed above is that
a) the JL handwriting 'is clearly in Joes hand as referenced by other material',
b) it contains Joes 'style and voice'
c) Superintendent Hare noted Joe's cleverness with a pen and his ability to shape words
d) Ned and Joe were seen writing the letter by Mrs Devine
Before looking at the argument now revealed in the book released today that Wallace may have written the JL, I point out in regards to a) that expert handwriting analysis of the JL and the Sherritt letter was undertaken and published in 2014 by Dr Tahnee Dewhurst, a Senior Forensic Document Examiner with Victoria Police. This highly qualified expert did NOT agree that the handwriting is 'clearly' Joes – in fact it was so unclear she was unable to offer an opinion. (Chapter 22 of NK Under the Microscope; Ed Craig Cormick). I am not aware of Stones credentials in the science of handwriting analysis.
In reference to b) alleging that the JL contains what is claimed to be the 'style and voice' of Joe surely begs the question, and is essentially a circular and invalid argument : the reason we know its Joes style and voice is because he wrote the Jerilderie letter, and we know Joe wrote the letter because it  contains his style and voice….hmmmm.
In regard to Hares opinion, first let's see the reference, but second, so what? The issue is not Hares opinion of how clever Joe Byrne was but was Byrne the author who wrote the JL? In any case Joe was only supposed to have been recording Kellys words not his own. And Mrs Devine saw them writing the JL did she? My understanding is that the letter was completed and then taken to Jerilderie so it could be printed. I am happy to be corrected but again, let's see the source for that claim.
So now we come to the assertion in Nabbing Ned that it may have been the schoolteacher James Wallace who wrote the JL. Importantly, as the Age headline says, Dufty argues for his view that Wallace 'probably' wrote the Jerilderie letter – and in the very last chapter of the book he produces a fascinating and compelling argument in support.
To start with, it's a fact that nobody is sure who wrote it, but everyone seems to agree it wasn't Ned Kelly, and everyone seems to agree that a few months after the JL was written Joe Byrne DID write a letter to Aaron Sherritt. Looking at the grammar and spelling, Dufty asks why, if both letters were written by Byrne did he misspell words in the Sherritt letter that a few months earlier he knew how to spell correctly? In the JL he wrote 'traitor to his country' but a few months later wrote 'I was advised to turn treater' a misspelling that Stones attributed to Byrne "pausing to sound out the words he's trying to spell with his colonial twang" (Questions and Answers : An Outlaws Journal.com) But why would he do that if he had already spelled it correctly in the JL? Why 'his life was insured' in the JL but a few months later ' a short live but a merry one'?
Dufty believes these peculiar discrepancies, along with the graphological uncertainties rule out Byrne as the author of the Jerilderie letter. So why Wallace?
Dufty identifies schoolteacher Wallace as the only realistic candidate :  he was closely connected to the Gang, he was a close friend of Byrnes and visited his mother often, he was known to have provisioned the Gang on occasion and sheltered them and yet he was also a  police spy who submitted many long, detailed and carefully written reports. "Nobody else involved in the events of the Kelly outbreak produced as much written work as James Wallace" (p355)
 Moreover, Dufty located an admission by Wallace that he had written a death threat in Joes handwriting to a Beechworth resident who had co-operated with police.
What would be so surprising, knowing what Wallace was capable of, if the less well educated and less erudite gang members turned to someone they trusted and asked for help in crafting the message they wanted to get across? It's entirely feasible.
Dufty compared known writing of Wallace with the JL which had been so carefully and neatly copied from drafts that it contains very few mistakes or corrections. The style was somewhat generic and not typically Wallace or Byrne or anyone's in particular according to prior analysis. However, Duftys sharp eye noted that in the very few places where there were errors that required correction, indicating lapses in concentration, the corrections often included words written in a style that was uniquely Wallace's. Its quite a startling revelation.
Dufty reconstructed a few lines from the JL using words extracted from a document known to be in Wallace's handwriting: the resemblances were striking.
So, did Wallace write the JL? According to Dufty, who has written a fascinating exploration of the possibility, he probably did. Of the two arguments, I find his the most compelling, but if a better one can be made for Byrne, lets hear it.
(Visited 908 times)