Kelly sympathisers discussing Lonigan's death a few days ago recycled arguments that were disproved years ago, and contributed nothing new to the debate. They kicked out a contributor who offered a reasoned evidence based rebuttal because, according to the Admin of the site, Members were getting 'upset'. So, by the time the thread ended, the snowflakes had reassured themselves of two things that were false: Kellys killing of Lonigan was self-defence, and the person they kicked out was probably me using a Fake ID.
In this post I will remind readers yet again of the evidence and the reasoning that disproves the 'self-defence' argument sympathisers make about Lonigan's death.
Firstly, sympathisers might be surprised to learn that at Ned Kellys trial, self-defence was not mentioned. Instead, other arguments were made but at the end of the trial, after listening to them all and hearing the evidence and observing Kelly himself, the Jury found him guilty of murder. One has to ask if Kelly and his own team didn't think arguments about 'self-defence' would advance their cause in 1880, why do modern sympathisers think it would in 2022? They would need to introduce some very convincing new evidence if they ever hoped to get the Jurys verdict thrown out…. but, predictably they haven't produced any. All they've done is recycle disproven arguments from years ago, impressing only people who are uninformed about the detail and don't know any better.
Their claim is that Ned Kellys version of what happened to Lonigan is the truth, and his version is that when ordered to Bail Up, instead of doing what he was told Lonigan ran behind what Kelly called 'a battery of logs'. According to Kelly, Lonigan then raised his head above the logs, took aim and was about to shoot Kelly with his revolver but Kelly fired first, hit him in the head and killed him. The only other survivng witness to Lonigan's killing was McIntyre, but his account sharply contradicted Kellys claim, reporting that Lonigan was shot before he had time to even get his revolver out, let alone get behind 'a battery of logs' and come up from behind them and aim it at Kelly.
So, first of all let's deal with Ian Jones well known and widely believed claim that in providing this account McIntyre committed perjury. According to Jones, McIntyre's original account agreed with Kellys but he changed it under pressure from his superiors so that they could deny Kelly the defence of self-defence. This claim about McIntyre changing his testimony and telling lies is part of the sympathisers creed, a fundamental belief of theirs that was repeated yet again only two days ago by an Admin of a Kelly idolisers FB page. In fact, McIntyre provided several signed separate statements about what happened, and they all said the same thing about Lonigan's death – he didn't have time to draw his revolver let alone fire it and he was out in the open when Kelly shot and killed him.
So where does Jones idea that McIntyre lied come from, if all his known statements say the same thing about Lonigans murder?
What Jones is referring to is an extract from a 1913 Memoir written by police Superintendent John Sadlier. In the memoir Sadleir, now almost 80 years old, records what he thinks he remembers of a conversation he had with McIntyre 30 years previously when the two met briefly several days after the murders. Sadleir's source wasn't a document or a statement made by McIntyre, as Jones implies, but his own failing memory. We know his memory was failing by the presence of errors in the memoir such as Sadleir's belief that it was Dan Kelly who executed Kennedy and that "Ned Kelly insisted on each of his companions discharging their weapons into the dead bodies of the three police, thus fully implicating, as he thought, each and all in the crime that had been committed' In relation to Lonigan, this claim was disproved by the autopsy findings which showed that every wound was inflicted on him while alive.
Put simply, and as charitably as one can the ageing Sadleirs recollection about Lonigan's death was just plain wrong. No fair-minded person would think it reasonable to discount an eye-witness testimony, consistently repeated on five separate occasions, in favour of an octogenarian's recollection 35 years later that didn't agree with documents handwritten by the eye-witness from as early as 24 hours after the murders. To do so would be preposterous.
For Jones to make out that Sadleir had obtained a 'statement' from McIntyre and claim it was the earliest account he gave and that later McIntyre committed perjury is not just wrong, it's an entirely false claim and a baseless vilification of McIntyre! Jones really needs to be called out on this one: it's a shocking misrepresentation if not an outright and deliberate lie.
So, we are left with two accounts of Lonigan's death that contradict each other, one claiming a killing in self-defence, the other a cold-blooded murder. The anti-woke Kelly apologist Sturt Rowsell wants everyone to believe there's no point in even trying to resolve this conflict because its all so complicated and so far back in the past that it's impossible to work out who is telling the truth and who is lying here. He says this because the last thing Kelly apologists want is for open evidenced based rational debates to occur and for the answers to be uncovered: the risk is that the myths will be exposed and put to bed.
Unhappily for the apologists, in this case – and in many others as well – it is easy to work it out. All one has to do is use the available evidence and simple logic, and without the need for conspiracy theory, alien or supernatural intervention its child's play to work out with absolute certainty who the liar was : it was Ned Kelly.
We can be confident of this because of the careful way in which Dr Samuel Reynolds performed and recorded the findings of his post mortem examination of Lonigan. Even though Kelly and McIntyre agreed Lonigan was only shot once, Reynolds found three other bullet wounds in addition to the one that entered his brain through the right eye and killed him almost instantly. The other wounds were a graze to the temple, an injury to his left arm and another where the bullet entered his left thigh from the side and tracked across the front of it and lodged under the skin. The other crucial but long overlooked observation that Reynolds made about these wounds was that bruising and bleeding around them indicated they all happened while Lonigan was still alive. These observations – one shot and multiple wounds inflicted while Lonigan was alive – can only mean one thing: Lonigan was brought down by multiple projectiles fired in a single blast from Kellys gun, perhaps a quartered bullet. This fact puts a dent in the claim that Kelly was a crack shot, but much more importantly it disproves his claim that Lonigan was behind 'a battery of logs' when he was shot. A person protected by 'a battery of logs' doesn't get shot in the thigh from the side – unless of course aliens or a supernatural force is involved. What it means is that Lonigan was out in the open, exactly as McIntyre said.
Below is Bills brilliant illustration of the scene showing Lonigan at the moment of his murder, looking back as he turns to run, his left side exposed: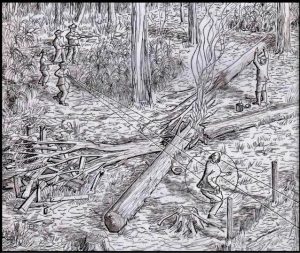 Perhaps this was why at his trial for Lonigans murder, Kellys team made no mention of 'self-defence'. They probably realised that with Reynolds testimony on hand if needed, Kellys claim that Lonigan got behind 'a battery of logs' and tried to shoot him would be exposed as a lie, and Ned Kelly as a liar. If that happened, nothing he said would be believed.
As it turned out, they didn't believe him anyway.
(Visited 424 times)