'Lament' continues the trend started by Aidan Phelan last year for Kelly devotees to write historical fiction, rather than attempt the more difficult task of separating facts from fiction and writing the true story. Author Nicole Kelly – not a relation – says she's 'loved the story of the Kelly gang' as long as she can remember and writes sympathetically of the Gang in this novel, which, like Phelans  is  about Glenrowan and the aftermath. However, unlike Phelans novel, this one has a much looser attachment to the historical and a much greater reliance on the fictional. It's a light read in a 'sliding doors' kind of style, that will be entertaining to Kelly devotees but will annoy people like me who can't help noticing all the historical errors and Kelly myths that underlie and are perpetuated in the story. Never-the-less, the writing was engaging enough, and the story imaginative enough that I managed to read the entire thing. 3 Stars.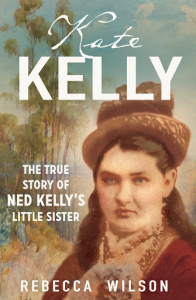 'Kate Kelly: the true story of Ned Kellys little sister' on the other hand purports to be nonfiction, the 'true story', and therefore potentially is an important contribution. In fact, though its subject is Kate Kelly it's inevitable discussion of the Outbreak is so laden with demonstrable errors of fact, with claims that make no sense and with recitations of so much already out-of-date Kelly mythology, that I have to seriously question the authors credibility. I had to struggle to complete the book, because I found myself doubting the truth of everything that was written that was new to me, because whenever she touched on topics that were familiar to me she so often got it completely wrong. Why would I believe the author was telling the truth about the things I had no knowledge of when her references to things I did have knowledge of were so often completely wrong?
Heres a few of the obvious clangers, and remember this book purports to be a ' TRUE story':
ONE : Wilson writes that Fitzpatrick 'arrived without a warrant to supposedly arrest Dan'. Firstly there was no 'supposedly' about it – that's exactly what he went there to do. Secondly I think by now most Kelly students have got the message that in 1878 and still to this very day, there has never been a requirement for arresting police to carry a warrant. This is a fundamental misunderstanding that Mrs Kelly herself laboured under, and so also it seems does Rebecca Wilson, as well as the many uninformed Kelly students who frequent Facebook pages where this misunderstanding is often repeated.
TWO: Wilson writes that Red Kelly was imprisoned for 'cattle stealing'. No he wasn't : he was imprisoned for the 'Unlawful possession of a hide'
THREE :Wilson writes that after Red Kellys death Mrs Kelly went to Greta where 'they all helped each other start over again despite many setbacks including a house fire lit by Reds brother' What actually happened was that Reds brother Jim was drunk, his attempt one night to have sex with Mrs Kelly was rebuffed so he set fire to the building, it burned to the ground and the inhabitants including Kate Kelly and 12 other children were lucky to survive. However to call the result of this arson a 'setback' is a gross understatement : they were all reduced to complete and abject poverty and Jim went to prison for a long time. Why did Wilson conceal the awful truth of this incident by calling it a 'house fire' when it was an almost deadly criminal arson, and not be interested enough in her subject, Kate Kelly to wonder what possible psychological impact such an awful event might have had on the young Kate?
FOUR: "Flood was running a horse stealing racket and had rewarded Anne with gifts and money in return for creating false evidence for him so he could maintain his racket. Ellen believed her daughter when Anne told her Flood had raped her" Wilson doesn't supply footnotes or references to any of the claims she makes in this book, and I am not aware of any evidence that supports any of these ones about Anne or Flood. The affair between Annie Kelly and Flood was certainly improper on Floods behalf, but Anne was an adult and also married. No rape complaint was ever made. All we know about Flood being a horse stealer is that in the Jerilderie Letter Ned Kelly claimed he was one, but we know that Ned Kelly hated Flood and this claim that he was a crooked Policeman and a horse thief is probably a lie. Notwithstanding his foolish affair, Flood was a highly-respected Policeman in the district. What happened to Annie in childbirth was not his fault.
FIVE: According to Rebecca Wilson, Ellen Kellys "ramshackle shanty was at times a wild place filled with ugly men in filthy clothes whom (she) wrangled with perfection. Police were paid off when they visited as a necessary business transaction and the rough venture kept the Kellys afloat" Where is the evidence for the claim that Mrs Kelly paid off police? Kelly sympathisers will be offended I am sure, but there is no such evidence.
SIX: "George King…felt more like a brother than a father figure, since he was younger than Ned" How long would it take a writer to fact-check that claim: two minutes on the internet, or one if you owned Corfields encyclopaedia? Its wrong – King, born in 1848 was at least 6 years older than Ned Kelly.
SEVEN: "Alice was always portrayed as Ellens daughter and Kates sister but she was the result of a love affair between Kate and a policeman, Constable Fitzpatrick" Wilsons only 'evidence' for this quite extraordinary claim, the most sensational one in the entire book is that according to Wilson, George King had been away for a long time by the date of Alices birth – but nobody knows exactly when King disappeared from the Kelly household, and even if he wasn't the father, nobody at the time ever doubted it was Ellens baby. Nobody!
This claim of Wilsons about Fitzpatrick being the father and Kate being the mother of Alice is so full of holes its a wonder to me that she has been allowed to get away with making it for so long. The largest hole is that if one assumes the baby was born at the end of a normal pregnancy, conception would have occurred mid-July, before Fitzpatrick was even in the North-east. He arrived at the beginning of August and according to Wilson once he had met Ned Kelly he then came into contact with Kate and then 'groomed' her until finally she became pregnant.
But why, if the baby was Kates would Ellen Kelly be breastfeeding her? And why would Mrs Kelly take the baby with her to prison if it was Kates? And why did Kate never make any attempt to assume at any time ever in the future the role of mother to her firstborn? None of these obvious problems are addressed.
I don't need to go on. Its clear this book is nowhere near a "True" story, and would have much more honestly been called Historical Fiction like Nicole Kellys is. Instead we have a grossly inaccurate account of the things we already knew about Kate Kellys sad story, and no idea of the truthfulness and accuracy of the claims made about the parts of her life that we don't. This author has sabotaged her own credibility by not sticking to the facts. Adding a long list of sources at the end of the book in which there are no references is no help to her credibility.
I finished up thinking I've no idea what to believe, and so decided  that reading this book was a complete waste of time.
1 star. 
(Visited 819 times)