For the last ten or twenty years, in late June, Kelly sympathisers have gathered at Glenrowan to commemorate and celebrate  the Siege of June 1880, the focus being Ned Kellys menacing armour and his so-called 'Last Stand', a desperate 15 minute act of insanity Kelly sympathisers think was heroic. It used to be a highly-organised and very popular event with a formal dinner and a guest speaker, but along with almost every other local Kelly related event in recent years, as the Kelly myth has been unravelling, this too has now dwindled to almost nothing. All that will happen this year will be a pathetic meet-up of maybe a couple of dozen Kelly fans for a Saturday night booze–up. One of them wrote that "we'll all be in Glenrowan having a few drinks and a good pub meal in honour of the Kelly gang and co"and another said the idea is to 'raise a toast to Ned and the boys'. They're counting down the days like excited children waiting for Xmas.
These days, thanks to myth-busters like Ian MacFarlane, Dawson, Morrissey, Kieza and Dufty, all of us, sympathisers included, are much better informed about what the gangs plan was for Glenrowan. Sympathisers can no longer pretend, as they used to, that it was something to do with a noble cause such as a Republic – that notion has been exposed as a fiction invented decades after the Gang had disappeared. Instead what we know know for a fact is that it was a plan to turn Glenrowan into a blood soaked killing ground, to slaughter without mercy the entire trainload of police,  and anyone else who got in their way;  a colossally violent and utterly depraved act that even Ian Jones recognised would have been a criminal atrocity of monstrous scale.


Sympathiser myth makers want you to believe that the gangs  victims would have just been the hated police but thats a lie.  The gangs victims would also have been the several innocent people on the train,  and any maimed survivors, some of whom would have been left with life-long injuries, or who  only died after suffering horribly over days and weeks till they eventually  succumbed to the complications of life threatening injury, blood loss , and infection, in an age when there was no such thing as  blood transfusion, antibiotics or safe anaesthesia and emergency surgery.  The gangs victims would also have been the forgotten grieving wives, children and loved ones of everyone killed, and to any animal lovers out there, spare a thought for the  police horses on that train : they also would have been killed or injured and suffered horribly until hopefully some kind person euthanased them. The horrendous brutality, the horror and the misery that would have been visited on Glenrowan, and that town for all of the rest of its history if Ned Kellys apocalyptic, insane plan for mass slaughter had succeeded is almost unimaginable and cant be underestimated. 

So by all means, go there Kelly admirers, show off your tattoos and your Kelly stubbie holders and get plastered and talk as much shit as you like about your lunatic hero and his absurd failed armour. There's no law against believing bullshit and admiring a sick thug. But just remember this: every time you raise your glass to Ned Kelly you're raising your middle finger to the murdered policemen, you're raising your middle finger to their bereaved wives and children, you're raising a middle finger to the memory of Johnny Jones, Martin Cherry, George Metcalf and Aaron Sherritt who died in the siege, you're raising your middle finger to all Ned Kellys victims, including the innocent horses, and telling them all that matters is the Last Stand and your contemptible worship of a delusional maniac. Bollocks. Celebrate and be ashamed, if shame is something youre capable of feeling . 
For everyone else though, there is in fact a genuine cause for celebration and guilt-free toasts on the siege Weekend coming up, a cause shared by most of Australia, many many more people than the shameful mob of fanatics who venerate the killer : its the anniversary of the weekend when the murderous Kelly Gang was brought to its knees,  Kellys  abominable  scheme for Glenrowan was stopped in its tracks and Kelly was finally brought to account for his crimes.  This celebration would be doing something that was done all over Victoria in June 1880 : rejoicing and celebrating with relief and happiness that the Kelly Gang had been destroyed at last, that the drunken violent fugitive  thieves and murderers were at last  made to face justice. So yes, lets celebrate the Siege Weekend coming up with a few toasts of our own, to the destruction of the Kelly Gang, to the  sacred memory of all their victims to the triumph of good over evil, and to Thomas Curnow the extraordinarily brave young man who virtually single handedly, brought Kellys reign of terror to an ignominious end.

Read the newspaper account from 1880 , below, to remind yourself that what I am saying in 2023 is exactly the same thing they were saying back then, before the Kelly mythmakers had a chance to try to rewrite history,  and watch out for this sentence "Not a doubt can be entertained that had the train expected to arrive with the police been upset, every being contained in it, if not killed by the accident, would have been ruthlessly shot down like a dog, or an opossum."


The Destruction of the Kelly Gang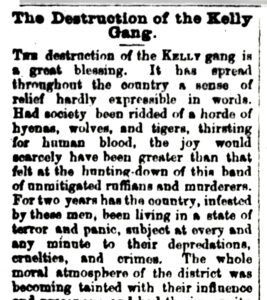 The destruction of the Kelly gang is a great blessing. It has spread throughout the country a sense of relief hardly expressible in words. Had society been ridded of a horde of hyenas, wolves, and tigers, thirsting for human blood, the joy would scarcely have been greater than that felt at the hunting-down of this band of unmitigated ruffians and murderers.
For two years has the country, infested by those men, been living in a state of terror and panic, subject at every and any minute to their depredations, cruelties, and crimes. The whole moral atmosphere of the district was becoming tainted with their influence and presence and had the immunity enjoyed by them so long lasted much longer, bushranging would have held out irresistible attractions to youn adventurous spirits of the Kelly- Byrne type and would probably have increased to an alarming extent.
Their career, however, fortunately, has now been brought to an end, but with a sacrifice of innocent lives appalling to contemplate.  To such brigands police, peaceful citizens, and even children are alike enemies, if found on the track of their nefarious doings; and if, in the late sanguinary encounter, where children were actually exposed by them to the shots of the besiegers; no women fell victims to their murderous deeds, it is because the circumstances of the case did not require their sacrifice.
The wicked design of wrecking the train sent to convey men to protect the citizens from harm, shows the diabolical pleasure taken by those ruffians in a purposeless destruction of human life.  Not a doubt can be entertained that had the train expected to arrive with the police been upset, every being contained in it, if not killed by the accident, would have been ruthlessly shot down like a dog, or an opossum.
The whole chain of events, however, seemed  to turn against these miserable criminals. The fatal blunder made by them was the conception and execution of the murder of Sherrett, and the determination to cause and witness the upsetting of the train from Melbourne
That prudence and skill shown by them in all their previous exploits, in this one appeared to have abandoned them entirely, emboldened probably by the success which had accompanied them  on every former occasion. It is not the first time a too implicit belief in success has led men on to ruin, and it will probably not be the last. Had they, after the shooting of Sherrett, withdrawn with due speed to their fastnesses in the ranges, instead of stopping, on their way back, at Glenrowan to wreck the railway train, they would have had a lease of their reign which, aided by the numerous friends that had so long protected them, might have extended over another two years. But their time had come. Revenge urged them into the commission of an irretrievable blunder, into the taking of a step, one error in which would encompass them in ruin and death. They waited not for the destruction of the police, but for the destruction of themselves. Like demons they have lived, and like demons they have died.
Never perhaps in the long and sanguinary history of bushranging, has Colonial Society been cursed with four fiends of so black a dye. Three of them have died as they should not have died, and have been saved that death which, if murder is to be punished by the common' hangman, they have thoroughly earned for them selves. The leader of the band, though wounded, alone is saved to go through the torture of a protracted trial and a criminal execution.
Will this be a warning to others?
Unfortunately, we fear not. Bush ranging is only too widely looked upon not in the light of a criminal, but of an adventurous pursuit. Hundreds will extend their sympathy to, and therefore, share the spirit and feelings of these ruffians. It is the first step towards following in their tracks.
And as opportunity makes the thief, so it makes the bushranger. 'Ce n'est que le premier pas qui coute'. And that once got over, robbery with arms, wounding the police, and murdering innocent and law-abiding citizens follow in a natural sequence.
Attractive however as all this may appear to be to a few of our criminally inclined young bushmen, its end sooner or later is on the scaffold, or in the cells of a dreary prison. Were there no sympathisers with men like the Kellys the Gardiners and the Thunderbolts we should have very few bushrangers, and a scanty supply of the stuff out of which bushrangers are made
We are sure our readers will join us in the congratulations we offer this colony on the destruction of this world-renowned gang of robbers and assasins
Singleton Argus July 7th 1880
(Visited 1,278 times)