The recent discussions on Facebook about exactly where along Stringybark Creek the police murders took place quickly degenerated into a hopeless tangle of threads and comments that became impossible to follow, and went nowhere. As a result, The Kennedy Tree report group began a similar conversation on their own page, once they had lifted their long-standing block on anyone posting to it. However it was soon obvious to them that their arguments were not prevailing there either, and so they shut the conversation down again.
So, even though nobody altered their positions, the discussions gave useful insights into the minds and the thinking of the various protagonists, and further revealed the strengths and weaknesses of their arguments. To try to untangle some of the confusion I am going to make a few posts that I hope will simplify and explain some of the main arguments .
Remember that the starting point for all these investigations is the Burman photographs of the police campsite, one of which is seen above. In this Blog Post I will discuss the way in which the photos have been interpreted.

In his report of the murders, McIntyre described what he remembered of the layout of the logs at the campsite, saying that some were lying in a roughly east to west direction, and were joined in the middle by one running roughly north to south.  He also said that when Kennedy returned to the camp he returned from the north, and Kelly concealed himself behind a log and directed McIntyre to sit on it, to his left.

So now, when you look at the photo at the top of the page, its easy to orientate it because what  is shown is exactly what McIntyre described.  It shows someone pretending to be Kelly  hiding behind a log and armed with a gun and looking to the right of the scene, towards the north, it shows someone pretending to be McIntyre, unarmed and seated on a log looking  in the same direction, and it also shows another person pretending to be Kennedy approaching these two men,  from the north. 


Here is a very clever and helpful reconstruction made by Bill Denheld that explain what is seen in the Burman photos :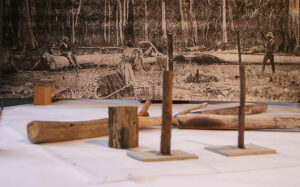 Now heres the really crazy news about the CSI team and  Adam Ford, both of whom have their own different claims about where the camp is : they have both declared that Burman got it wrong.  According to them, in the photos Kennedy is shown approaching from the south, and the other two are turned around 180 degree to look south when  they should have been shown looking north.  

According to these guys, Burman would have known these actors were in the wrong positions, and they made his photos deeply flawed,   but for some reason he did it anyway. They don't explain why they think he chose to do it like that, to make images that were less accurate, when it would have been just as easy to make them much more accurate. They just say he was a commercial photographer and didn't care.(Mick Fitzsimons also says Burman got it wrong and claims to have his own site, but he must be very uncertain about it because he hasn't ever presented a detailed case for this site of his like Bill and the others have)
On the other hand, Bill and the KTR group both believe that as a professional photographer Burman would have done his best to make images that were as close to what really happened as possible.  It would be damaging to both his livelihood and his reputation, which depended on the quality of his work, for people to discover his images were not as reliable as they could be. Why else  would Burman have gone to all the trouble of hauling himself and his gear all the way out to SBC through rough country on horseback? The argument that he went to all that trouble to get there and then just to take inaccurate images that could undermine his reputation and livelihood makes no sense, especially when it would have been very easy to make the images much more accurate. If he didn't care about accuracy he could have much more easily recreated the scene in some convenient trees in his own back yard or in the bush just out of town, anywhere he liked. A whole lot less fuss.
So, the first step in figuring out the orientation of those photos is to answer the question yourself: Would Burman have tried to make his photographic records of what happened there as accurately as he could make them? You're  metaphorically at a fork in a road and have to decide, on the basis of what seems the most sensible choice,  which one leads to the Campsite. 
If your answer is no, he probably wouldn't have tried to make his photographic records of what happened there as accurately as he could make them, then you can investigate any site you like, including the CSI site and the Ford and Fitzsimons site . Not caring about accuracy includes the possibility he might have got it right by accident…
On the other hand if your answer is yes, it makes sense to believe that Burman would have wanted to make his images as accurately as he could, then you agree with Bill and the KTR group, and with me.  We all believe  Burman deliberately placed his 'actors' facing north, and in positions that were as accurate as possible given the need to fit them into the picture, and this means that the camera was in the north east pointing south or southwest. This decision means there  is no need to further investigate the CSI and Ford and Fitzsimons  claims to have found the police camp site because the basis for their investigations is an unreasonable belief about Burmans motivation and a careless attitude to the accuracy of his photos.
In my next Blog post I will update my critique of the KTR claims, with reference to their recent commentary.
(Visited 707 times)