Ned Kelly is supposed to have said that if he ever shot anyone, Thomas Lonigan would be his first victim. And that's exactly what happened: Lonigan was the first of the three policemen that Kelly murdered at Stringybark Creek on October 26th 1878.
Kellys remark about killing Lonigan was his response to having his testicles forcefully squeezed by Lonigan when Kelly was violently trying to escape from police custody, in 1877. Kelly was trapped inside King the Benalla Bootmakers shop, with no possibility of escape, so instead of doing what any sane person would do in that situation and give up, Kelly fought and struggled and kicked and punched and no doubt yelled and cursed, hoping to inflict as much damage as he could on the three police trying to subdue him before the inevitable happened, and he was placed in handcuffs.  That was when Lonigan applied the "Squirrel grip".  Later Kelly boasted about this struggle, because like delinquent youths before and since, fighting police is regarded as a smart thing to do.
QUOTE… "In the course of this attempted arrest Fitzpatrick endeavoured to catch hold of me by the foot, and in the struggle he tore the sole and heel of my boot clean off. With one well-directed blow I sent him sprawling against the wall, and the staggering blow I then gave him partly accounts to me for his subsequent conduct towards my family and myself."
There are several important myths in the Kelly legends about this incident that need correction. As is so often the case, the account everyone knows is Ian Jones account, an account which cynically misrepresented the facts in order to create the impression that Kelly was the victim and the Police were bastards. Jones version, which everyone takes as Gospel is that Ned Kelly was out drinking with Fitzpatrick in Benalla one night, and got drunk because his drink was spiked by Fitzpatrick, who then in an act of pure bastardry arrested Kelly and locked him up.  In the morning, to humiliate Kelly further, before marching him down the street from the lock-up to the Courthouse to be charged for being drunk, Fitzpatrick insisted that Kelly be handcuffed, and this insult was what caused Kelly to take off, only to be chased into the Bootmakers shop and find himself cornered. The  sources for this episode are the Jerilderie letter, and Ned Kellys "Interview" of August 1880, which is to say, Ned Kellys own words.
Here is what Kelly says in the "Interview":
"Some time ago I had been drinking, and I think I was drugged, and I was arrested for some trifling offence — riding over a footpath, I believe— and lodged in the lock-up. On the following day, when I was taken out of the lock-up, and, still dazed, I escaped and was pursued by the police. I took refuge in a shoemaker's shop, and four constables soon came in after me. They, assisted by the owner of the shop, tried to put the handcuffs on me, but failed. In the struggle that ensued my trousers were almost torn off me. Finding me a more difficult man to manage than they expected, Lonigan seized me in such a manner — a cruel, cowardly and disgusting manner — that he inflicted terrible pain on me ; but still I would , not surrender…"
…"still I would not surrender…" writes Kelly, thinking normal people would be impressed by such pointless obstinacy. All over a paltry drunken misdemeanour.

The important things to note are firstly, Kelly makes no mention of drinking with Fitzpatrick and secondly, he doesn't  say Fitzpatrick spiked his drink, only that "I think I was drugged"  which is one of the oldest excuses  in the book, when it comes to trying to pretend you didnt just lose control of your drinking one night.  Why would anyone believe the known liar Ned Kellys excuses? Fitzpatricks involvement was in making the arrest when the drunk Kelly rode his horse over the footpaths. Whoever decided to claim that Kelly was drinking with Fitzptrick and it was Fitzpatrick who spiked his drink – those are baseless additions made up, as usual, by Kelly apologists to blacken police and absolve the delinquent Ned Kelly of responsibility for his loutish behaviour.
Thirdly, note that its clear from his own account that Kelly himself made an impulsive, unprovoked spur-of-the-moment decision to try to escape just as soon as he was taken out of the lock-up, and lastly there was no attempt to humiliate him by putting handcuffs on him – the handcuffs were only used after he had attempted to escape and ended up cornered in the Boot-makers shop. The attempt to humiliate him was another bit of fake news made up to try again to embarrass police and absolve the delinquent Kelly. The police actually treated him like a normal human being and were expecting as he was now sober he would walk quietly to the Court and take his reprimand like a man. They were still learning that Kelly was far from a normal human being.
Notice Kellys inability to concede, when the "Interview" was conducted three years later, that what he did was dumb and that all the pain and suffering that resulted was entirely of his own making. He could have just walked across to the Court, accepted a fine of two shillings and been on his way. Instead, as is typical of larrikins with no impulse control, he decided to make a run for it, messed up by running into a shop with no back door and then decided to violently resist arrest when there was no possibility of him avoiding it. The entire escapade from start to finish was completely idiotic and pointless, and nothing at all to do with police corruption or abuse. But how incredible, that Ian Jones would so deliberately conceal the truth in favour of lies and myth-making.
But heres the final analysis : Kelly gets drunk, tries to escape custody, is trapped and creates a massive brawl, is finally brought under control and then vows to kill one of the police who was forced to use a legitimate tactic to subdue him. And does….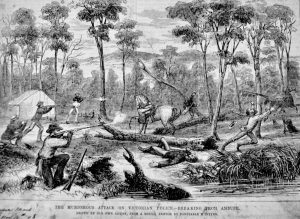 The other famous, but this time lethal interaction between these two men was just over a year later, at Stringybark Creek, and once again Ian Jones is at the centre of the production of the popular but false version of what happened. What Ian Jones did was convince everyone that McIntyre's account of Lonigan's death were lies, and Ned Kellys version was the truth. McIntyre's version, written in his own hand and signed on several different occasions was that Lonigan was shot within seconds of being ordered to bail up, when he was still out in the open and well before he had time to pull his gun out of its buttoned-down holster, let alone fire it. Kellys version was that on being ordered to bail up Lonigan ran to the shelter of a 'battery' of logs, raised his head above them and was about to fire at Kelly so Kelly was forced to shoot him first, in an act of self-defence. He fired once and Lonigan died almost immediately.
Jones dismissed all of McIntyres accounts, on the grounds that over thirty years later, an 80-year-old Sadleir wrote an account of what he thought McIntyre had told him, an account which more closely resembled Ned Kellys version than the several actual written accounts given by McIntyre himself. It takes a certain kind of wilful blindness not to see the extreme bias that's needed to dismiss eye-witness accounts that don't support your own beliefs in favour of a second-hand 30-year-old memory that does. But that's what Jones did and he continued to blacken McIntyre's good name and allege that he was a perjurer right to the end of his life. Today, because of the forensic evidence we know with complete certainty that Kellys version of Lonigan's death was wrong, and Jones blind promotion of it should be an embarrassment to any Jones defender.
The reason we know that it was not McIntyre but Kelly who lied about Lonigans death is because of the clever forensic observations made by Dr Samuel Reynolds. He performed a post mortem examination of Lonigans corpse and noticed not one but at least three bullet wounds, and he could tell they were all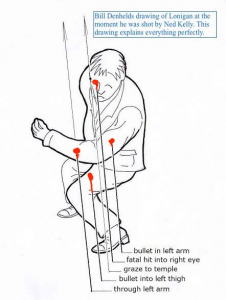 inflicted when Lonigan was alive. Because McIntyre and Kelly agreed Lonigan was killed with a single shot, this latter observation of Reynolds means that what was fired in that one shot had to have been multiple projectiles, perhaps a quartered bullet, with the piece that killed him almost instantly penetrating Lonigans brain thorough the right eye. Another grazed his forehead, another passed right through his left arm and a fourth entered his left thigh from the side. It's the finding of the fragment in the left thigh that proves Kelly lied, because if as Kelly claimed, Lonigan had been behind a 'battery of logs' his left thigh would have been protected – it could only have been wounded if Lonigan was out in the open, as McItnyre said.  Anyone doubting this needs to do one simple thing: pretend to be Lonigan and crouch down as if behind a log, pretend to be lifting your head up above it and taking aim at Ned Kelly, look at your left thigh and try to imagine how a bullet from Kelly could enter your thigh from the side while you are behind a log. It's quite literally impossible.
Eventually, it was Lonigans murder that Ned Kelly was convicted of, and for which he was hanged.  Self-defence wasnt featured in his defence but Kelly devotees often claim that if it was then he would have been acquitted or convicted of a lesser charge. Actually, any Jury, presented with the facts and the implications of Reynolds autopsy findings would realise not only was Kellys account of his killing of Lonigan a lie, it wasnt self defence but a cold blooded killing, exactly as McIntyre described.
And Lonigan ?  He was an Irishman, 34 years old when Ned Kelly murdered him. He left behind a wife, Maria and four children, the youngest, two years old, the oldest, Emily just ten. What  shocking and entirely pointless tragedy the out-of-control thug Ned Kelly visited on this innocent family.
(Visited 868 times)