For me, the big event on the Kelly Calendar last year was the sudden and very sad and unexpected passing of Ian MacFarlane, author of 'The Kelly Gang Unmasked'. His book, published by Oxford University Press in 2012 will stand as a landmark in the history of Kelly literature, being the first major break with the Ian-Jones-inspired mythology that had been masquerading as Kelly history for the previous forty or more years. Being an archivist with a history of having worked at the Public Records Office of Victoria for over twenty years, MacFarlanes research and analysis was second to none, and his remarkably concise and meticulously referenced re-examination of the Kelly story proved to be a devastating critique that the Kelly mythology won't ever recover from. His book inspired the new wave of Kelly scholarship that is developing and deepening MacFarlanes work, exposing the fraud that much of Ian Jones Kelly mythology was, and now unstoppably replacing it with the true history.
Sadly, there was a knee-jerk reaction of unrelenting and vile personal abuse and vilification of MacFarlane led by a right-wing Kelly extremist who boasted that he never read MacFarlane's book. To its eternal shame, as it wasn't in their interests to say anything about it, the middle ground of Kelly sympathisers all noted the sickening behaviour of this man and his little band of fellow abusers, and stayed silent. However, when Ian passed last year many were suddenly and hypocritically issuing condolences, and claiming respect for his legacy, a stance they never openly adopted when he was alive and was being abused and insulted by their colleagues. They should have just kept their mouths shut, as they had for all the preceding years. This is a fragment of a Facebook post I made at the time: "I am too sad and too angry to write any more about this for now, apart from one thing: Ian may have passed but his book remains and will always be a landmark standing as a marker at the beginning of the end of this sickening mistaken chapter of Australian history that elevated a violent thug and killer to false icon.
---
Apart from the passing of Ian MacFarlane, not much else happened in the Kelly world last year, and some of that might have been because of Covid. The Greta-Hansonville Hall Kelly weekend that had been organised for the two previous years didnt happen, there was no Glenrowan Siege Commemorative evening, and even the OMG was locked up and inaccessible on November 11th, so Kelly sympathisers were unable to place flowers on the Trapdoor as they usually did to commemorate Ned Kellys execution.
However, a new exhibition opened at the State Library of Victoria, of Ned Kellys tidied up armour with both shoulder plates attached, and his boot and rifle in a big empty room that had the entire Jerilderie letter on display around the edges. I visited it in December and haven't written my review of it for the Blog yet, but theres plenty of time as the exhibition is going to remain open all year.
---
I can think of only three additions to the Kelly bookshelves from 2021; one was a weird translation of a wildly inaccurate French publication which was partly redeemed by some nice black and white lino-cut graphics,(reviewed HERE by Stuart Dawson) another was a work of fiction by a woman who gushed about her admiration of Ned Kelly, and the third, an attempt at non-fiction, was an error ridden shocker that even Kelly devotees panned, about Kate Kelly.(My review of these two books is HERE) This was the book that claimed that Alice Kelly's parents were 14-year-old Kate Kelly and Constable Alexander Fitzpatrick. It was quite nauseating to see this author being interviewed on TV by a succession of wide-eyed gullible journalists who hadn't done any background checking and simply swallowed all the nonsense she was promoting.
You could probably also add to that list of publications two other things : Stuart Dawsons illuminating article about the Felons Apprehension Act (Reviewed HERE) , and a report issued in April 2021 by Heritage Victoria which was an evaluation – and rejection after expert analysis – of the claim made in late 2019 by amateur historians of the Kennedy Tree Group to have located the tree beside which Ned Kelly murdered Sgt Michael Kennedy.(Read that report HERE)  
Kelly sympathisers make up the entire body of KTG supporters, and in true Kelly sympathiser fashion they all rejected the expert findings and all arguments and facts which undermined their claim, and continued to insist the tree was what they claimed it to be. They vowed to challenge the HV Report but ten months later they've produced nothing: their response is one of the events I will be watching out for in 2022 – if nothing is forthcoming then they need to go back to the mainstream media outlets they persuaded to publicise their claims in 2019 and ask them to publish a retraction.
---
On the social media front, two new pro-Kelly Facebook pages emerged : Dave Whites 'Ned Kelly : The Facts' and Joe Shoguns 'John (Red) Kelly : His story'. After initial spikes of interest they have both struggled to attract support, and new material is not posted to them very often. Joe Shogun announced an imminent publication about Red Kelly, but it never emerged, and White banned me for having opinions that he didn't agree with, and now weeks go by and nobody comments there. The Best Bloody Man page continues its preoccupation with nostalgia and longing for the good old days of Ian Jones, but is running out of old photos to show and is currently dominated by displays of Kelly handcraft that's for sale. Yesterday a double Kelly revolver toilet roll holder could be ordered for $160.00. I am not kidding!
The numbers in the Members Only NK Sympathiser site have plateaued – and they still won't let me join –  and a couple of other pages whose interest is in worshipful veneration of Ned Kelly and man-cave memorabilia, tattoos and the like continue to grow and have many more members than all the others combined. What I appreciate about these latter Pages is their refreshing honesty : they don't pretend to be interested in 'all sides' – they've made up their minds and aren't interested in looking at evidence or new ideas or the historical record: Kelly is their hero and that's it! Post anything critical of Ned and youre out!  Most other Kelly Facebook pages claim to be interested in history and all sides of the debate, but expose their intolerance and duplicity when they expel people like me because of views they don't like. I wish they would drop the pretence.
Oddly enough, even though they've expelled me Jack, Mick, Bob and a few others continue to fill their Facebook places with hate ridicule and abuse directed at me. Last year Mick Fitzsimons also blew the cover he had been hiding behind for years so that he could abuse and attack me anonymously pretending to be 'Fred Brewster' one week and 'Owen MacLauchlan'  the next, but for most of the year he ignored his Hate Page and disappeared down the antivax  conspiracy rabbit hole, and frankly I hope he stays there.
---
There were three other events that are worth mentioning: the NK Alive Project announced the design of the 'Tower' thats yet to be built overlooking the Siege site at Glenrowan, work got underway on the restoration of the cottage Red Kelly built at Beveridge, and a contract was awarded for a complete redesign of the Ned Kelly Touring Route. Kelly sympathisers think all these things are aimed at preserving the unhistorical Kelly mythology they support, and think these endeavours show that the Kelly myth is still alive. In fact, they are all about bringing the Kelly story up-to-date, as has already been done at Stringybark Creek, where proper acknowledgement of the Police sacrifice has recently replaced glorification of a gang of murderers. The new Touring Route, the Tourist information shared at the Glenrowan Tower and at Red Kellies restored house will all reflect modern understandings of the Kelly story and not perpetuate the unhistorical myths whose exposures began with the Kelly Gang Unmasked in 2012.
---
Looking back, 2021 was further retreat for Kelly sympathisers, and already 2022 looks as if it will be another year of even more significant retreat for Kelly Myth with recent announcements about the imminent publication of two surprisingly similar new books on the Outbreak and I cant wait to read both of them.
The first announcement was of Grantlee Kiezas "The Kelly Hunters", due for release on March 31st. Kelly sympathisers think Kieza is on their side because he posts to their Facebook pages – but clearly none of them read his book on Ellen Kelly very carefully –  at every turn in the book and in his book tour interviews he described their hero as a violent criminal a bully and a thug. I have no doubt he won't sugar coat the police record from the Outbreak, but I know as well as he would that the historical record does not in any way support the Sympathiser narrative of police corruption and persecution as a cause of the Outbreak. Its going to be a fascinating read.
The second book, by David Dufty, "Nabbing Ned" is due for release before Kieza one, at the beginning of March. "Nabbing Ned" is described as 'meticulously researched' by Craig Cormick the Editor of the excellent 'Ned Kelly Under the Microscope' and Shane Patton, Chief Commissioner of Victoria Police says it "unmasks the Kelly myth" – which will terrify Kelly sympathisers I am sure. Dave White has already announced he won't read it! OMG!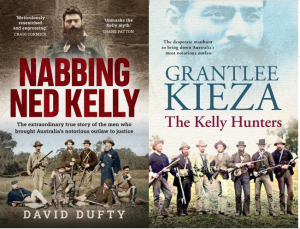 I of course, read everything, and will look forward to reviewing both books in due course. Incidentally, both these authors have posted an occasional comment on my pages as well, so both are aware of my work and my Blog and I am hoping they've made use of it!
This Blog is now in its eighth year, this is the 356th Post and there have been over 7700 comments. It came into existence after trolls sabotaged two earlier efforts of mine to expose the Kelly myths and they tried to sabotage this one too. Clearly, they failed. In 23 posts in 2021 we covered all sorts of interesting topics such as Sgt Steeles reputation, a claim Ned Kelly built a blue granite homestead near Winton, the  supposed perjury of Constable McIntyre, Chopper Read, the Felons Apprehension Act, there were book reviews and latterly, a series still to be completed on the Kelly book I would write if I had the time. I will complete that soon and look forward to writing many more Posts this year, a year which already looks good for anyone interested in seeing  the true story of the Kelly outbreak replace the mythology that a murderer was an Aussie hero.
(Visited 746 times)